What's better when visiting Walt Disney World – a hotel, or a vacation home? For these 10 reasons, you should always stay at a vacation rental.
Visiting Walt Disney World is an unforgettable experience. You want your vacation there to be one of the best trips you have ever planned. Sure, you might think that staying on-site in a Disney hotel is the best option.
It can fun, but there some incredible reasons for staying off-site.
10 Reasons You Will Want to Stay At A Vacation Rental Home
When you stay at a vacation rental like Sunshine Villa, so many things that normally stress you out will fall off your shoulders.
For a relaxing vacation full of memories, you can't beat the value and atmosphere of a rental home.
1. Save Money for Other Things
Just compare the cost of a Walt Disney World hotel with Sunshine Villa and you will see how much you can save.
Sunshine Villa Holiday Rate – $140 per night
Disney's Pop Century Resort (3-Star) holiday rate – $246 per night
That's saving $100 per night! With the money you'll save on lodging, you can upgrade to some character experiences.
2. Take More people to Disney
Sunshine Villa has 4 bedrooms and 3.5 bathrooms. As for beds, it has:
2 king-size beds
4 twin beds
This home can comfortably sleep 8 people. If you wanted to take a group of 8 people to Walt Disney World and stay on-site, you would have to book at least 2 rooms, if not 3.
3. Privacy
It's no secret that you don't get much privacy at huge resort hotels. You can hear other guests through the walls and you run into other guests in the hallways.
If you want to truly get away and spend time just as a family, then rent a home.
4. Have an entire pool to yourself
Resort pools might have cool colors and designs, but they are super loud and crowded. Sunshine Villa has a private south-facing pool for you and your group. This is even better news if you are a reserved person that doesn't enjoy being around people in your bathing suit.
5. Cook exactly how you need it
If you have allergies or a specific diet, you know the pain of going out to eat. It's just safer and easier to cook the food yourself. Vacation homes have kitchens with all the tools you need.
6. A vacation rental is quieter
All hotels are noisy, even magical Disney ones. That's just the nature of the beast when you sleep in the same building as hundreds of other people.
Whether your child has autism or if you just need time to decompress after being around the loud crowds of Disney World, a short-term vacation rental home can be that oasis.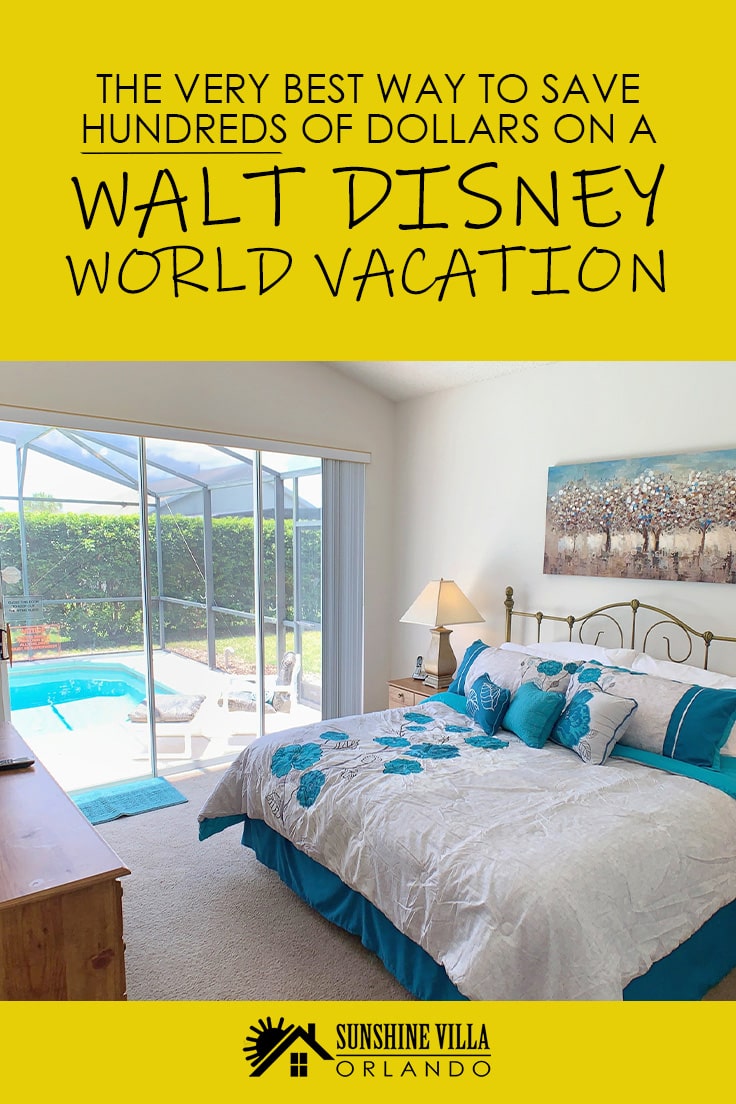 7. Free laundry facilities
Sure you can pay to wash clothes at the Walt Disney World resort, but the washer and dryer are free at Sunshine Villa.
I know, nobody wants to do laundry while they are on vacation. But the minute you spill a Dole Whip on your black shirt, you'll appreciate having a washer and dryer at your rental.
8. More Room
Take a video tour of Sunshine Villa and you'll see how spacious it is. There's no question. It beats a cramped room with a few beds and a couch any day.
And when you are traveling to Disney, you will appreciate having multiple rooms to spread out in.
9. You don't spend much time in your room at disney
Plus, here's a little confession: even when you stay on-site at Walt Disney World, you don't spend much time in your room. You are basically sleeping and bathing there. That's it. So why pay double the price?
10. Easier to get to
Finally, it's so much easier to drive to the rental and plop on your bed at the end of an exhausting day of exploring Walt Disney World.
At some Disney hotels, you have to climb 3 flights of stairs or wait for an elevator – and that's after walking from the bus all the way through the lobby and around the outdoor pool. Some Disney hotel rooms are a long walk from the bus, so even after getting off the bus you still have quite a walk ahead of you.
But when you stay at a vacation rental, you park in the driveway and you're right by your rooms. It's so much easier.
Ready to Stay At A Vacation Rental?
Are you ready to stay at a vacation rental in Orlando, Florida? Contact us to book your stay at Sunshine Villa. We would love to reserve this beautiful home for your family.