Sunshine Villa is located in Glenbrook Resort, an award winning luxury community in Clermont, Florida.
Just 9 miles west of Walt Disney World, but also far enough away to avoid most of the crowds that the area is famous for, the quiet location of Glenbrook Resort is a development of 260 pool homes within easy reach of all major Orlando attractions.
Walmart Superstore is less than 2 miles from the resort. Walgreens Pharmacy and CVS Pharmacy are both conveniently located at the entrance to the resort, just a few minutes walk from Sunshine Villa.
WHERE IS GLENBROOK RESORT?
Glenbrook Resort is located along Highway 27 in Clermont, Florida, a suburb of Orlando.
Glenbrook Resort is located 30 miles from Orlando International Airport (MCO), 61.3 miles from Orlando Sanford Airport (SFB) and 72.3 from Tampa International Airport (TPA).
Because of all there is to see and do in our area, most Sunshine Villa guests choose to hire or rent a car for the duration of their stay. However, taxis are also readily available for those who prefer not to drive themselves.
the perks of staying within Glenbrook resort
As part of your vacation at Sunshine Villa, you can enjoy all of the amenities and perks of the entire Glenbrook Resort Community at no additional cost.
Clubhouse
The resort Clubhouse is available for the exclusive use of resort guests and houses a media room, exercise room, games room, community swimming pool, tennis and volley ball courts. There is also a library of all the latest DVD's & PlayStation games available for rent (no charge to Glenbrook Resort guests though a small refundable deposit is required).
The media room boasts large, flat screened TV and DVD. There is also a wireless Internet access to enable laptops and PDA's to gain access to the Internet over a high speed connection. An Internet terminal is also available for public use during normal office hours. It's great for checking your flights and printing boarding passes.
community pool
Although Sunshine Villa has its own private pool, there may be times you want to visit with other resort guests and take a swim in the large community pool instead.
The community pool is open all year round from dawn until dusk.
There are plenty of lounge chairs for sunning yourself or relaxing by the pool while the kids play. You'll also find an outdoor pool table – just ask for the pool balls and cues at the front desk in the Clubhouse.
children's play area
You'll find a children's play area located at the rear of the Clubhouse. It has climbing frame, swings, slide and lots more.
There are also chairs for the parents to relax and watch the kids having fun.
game room
The game room at the Glenbrook Clubhouse includes a Pool / Billiards Table and Air Hockey.
exercise facility
You won't need to miss your work out just because you're on vacation!
If you're not getting in enough steps at one of Orlando's many theme parks, you'll find the exercise room at the Glenbrook Clubhouse is fully equipped with a treadmill, exercise bike, weights and more available for your use.
Tennis court, BASKETBALL hoop, sand volleyball court and fishing pond
You'll also find a superb tennis court, a basketball hoop, a traditional sand volleyball court and a catch and release fishing pond at Glenbrook Resort. All of the equipment needed for these athletic activities and sports can be checked out for free at the front desk in the Clubhouse.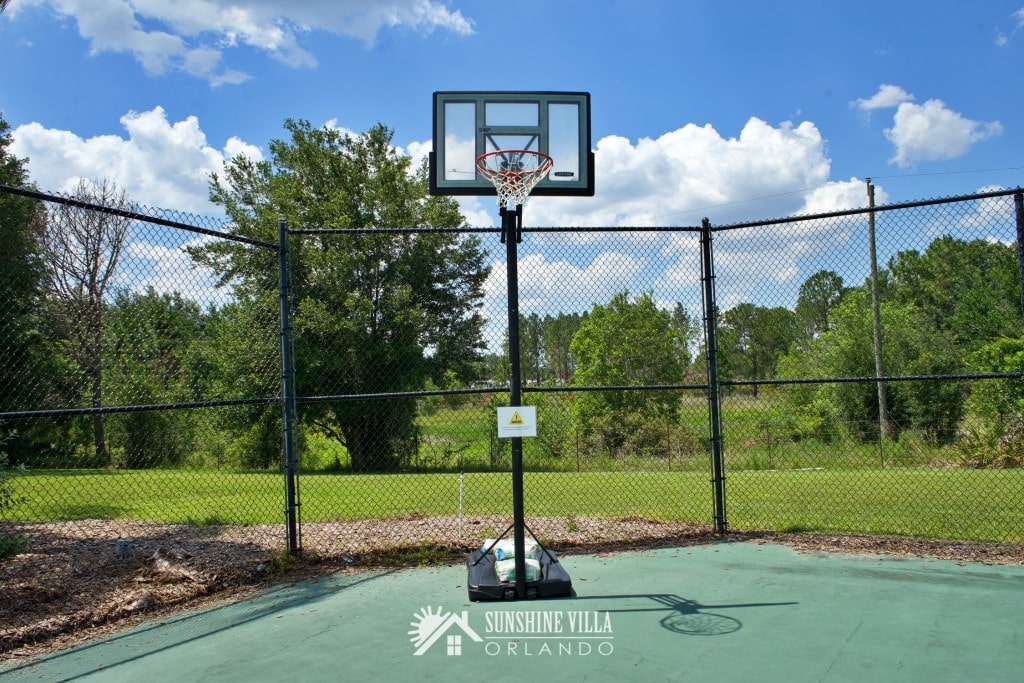 more details